Whether you have a growing family or you would simply like to expand the usable living space in your home, renovating your basement is a great way to add additional square footage to your property. During a basement renovation, your residential electrician serving San Jose will assist you with your lighting installation . Hanging lights in the right areas around your basement will help you brighten up your newly restored space. To help you get ready for your work with a residential electrician, here is a look at some basement lighting tips.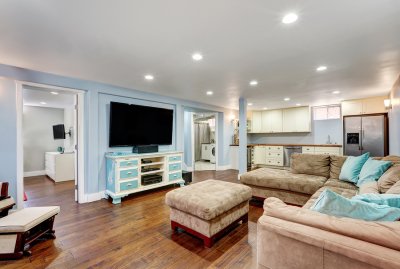 Illuminate Key Areas
As you are creating a lighting design for your basement renovation, you will want to consider which areas will need the most illumination. Places where you will be performing tasks such as reading or playing games should be illuminated with task lighting. Some examples of task lighting include recessed lights and pendant lights. Pointing a focused light at a certain area of a basement room can also emphasize a beautiful architectural feature, such as a built in bookshelf.
Create Overall Illumination
Whether you have a daylight basement, or your basement is low on natural light, you will want to make sure that your space is properly illuminated overall. Hanging light fixtures can be used to bathe your newly updated basement rooms in a cheery glow. When you are choosing lights to hang from your ceiling, you will want to pick out fixtures that help to create a sense of spaciousness and elevation.
Choose Energy-Efficient Products
In order to conserve energy when you are lighting your basement, you will want to choose energy-efficient lighting products for your design. LED light bulbs, for example, are extremely efficient choices for any homeowner. By going with LED bulbs, rather than conventional products, you can enjoy energy savings, while also achieving the same level of illumination. An electrician that specializes in lighting will be able to provide you with more energy-saving tips for your installation.