High-Voltage Home EV Charging Installation in San Jose, CA
Invest in Smarter Technology with Delta Electric's Expertise
Delta Electric remains at the forefront of emerging technology to accommodate the ever-evolving electrical needs of our customers. If you've decided to take the leap of faith with an electric vehicle (EV) to reduce your dependence on fossil fuels, you may be interested in our high-voltage home EV charging installation services in San Jose, CA. Having a home charging station makes electric vehicle ownership a breeze in the South Bay Area. Whether it's your first electric vehicle purchase or you own a business with a fleet of EVs for employee use, we can help you design and install your ideal charging station. Please reach out to us today for additional information or to request a free installation estimate!
How Does an Electric Vehicle Charging Station Work?
Rather than filling them up with gas at a station, electric vehicles require a charging station to charge their battery with electrical power. In the U.S., electric vehicle charging stations are either classified as Level 1 or Level 2. While Level 1 chargers may cost less initially, be aware they take longer to charge your vehicle fully. A Level 2 charger is also better for your car's battery in the long-term. While you don't necessarily have to install a Level 2 charger at your home or business, it's generally in your best interest.
Level 1 involves plugging in your electric car to a cable, which gives you the flexibility to transport and charge it virtually anywhere. Most Level 1 chargers use a 120 V AC plug, which can be plugged into a standard electrical outlet. No additional installation is necessary with a Level 1 charger. A Level 2 charger is mounted to the wall, which allows for faster charging through a higher voltage. A Level 2 charger uses a 240 V (residential) or 208 V (commercial) plug, which requires installation by a qualified electrician. Delta Electric specializes in the installation of high-voltage home EV charging stations for residential and commercial customers seeking powerful, efficient charging solutions.
Benefits of Installing Your Own Home EV Charging Station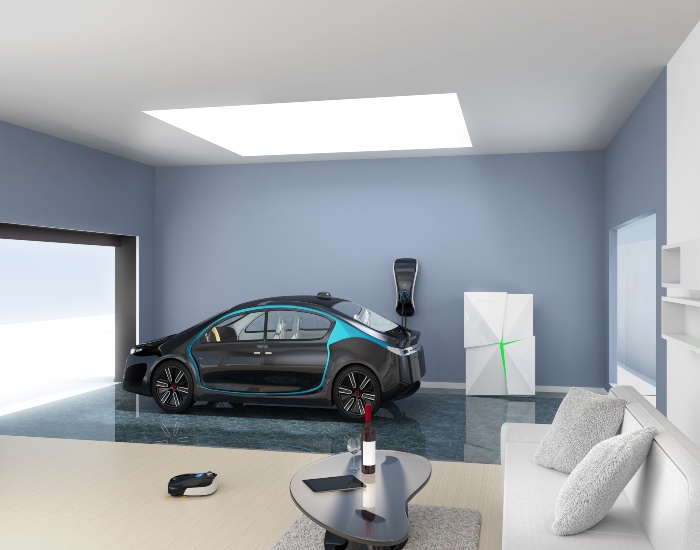 Since you'll likely spend the bulk of your charging time at home, it makes sense to install an EV charging station at home. Convenience is the number one advantage. You won't be limited to the amount of time you can spend charging your vehicle, as you can let it charge overnight while you sleep. You also won't have to worry about waiting in line at a public charging station or paying their varying service rates. It's estimated that charging your vehicle at home is up to five times cheaper than using a public charging station. Take control of your electric vehicle charging needs by investing in a home charging station that hooks up to the rest of your smart home technology.
How Long Does It Take to Charge an Electric Vehicle?
One of the questions we hear the most often from customers is, "How long will it take to charge my electric vehicle?" Several factors will affect your charging time, including your battery size and its condition, the type of charging station you have, and the maximum charging power involved. It's not possible to charge faster than the maximum charging power, which is why we specialize in high-voltage home EV charging stations to ensure our customers' satisfaction.
Nearly 40 Years of Experience – Why Choose Delta Electric?
While you have many companies to choose from when you need a home charging installation in the San Jose area, you're in good hands with Delta Electric. Our family-owned and -operated company has been around since 1982 with thousands of satisfied customers to our credit. We maintain an A+ rating with the Better Business Bureau and employ licensed electricians in good standing with the California State Contractor's Board, which you may verify for your peace of mind. Our rates are reasonable without any hidden fees, and we work around the clock to provide you with emergency service whenever you need it. Our comprehensive electrical services include new lighting installations, electrical panel upgrades, power surge protection, re-wiring, and electrical safety inspections.
Request a Free Estimate for Your Home Charging Installation
Delta Electric offers free estimates for all the installations we provide, including high-voltage home EV charging installations. San Jose and surrounding areas can rely on us for outstanding customer service. Whether you live in Campbell, Los Gatos, Morgan Hill, Mountain View, Sunnyvale or Santa Clara, give us a call today to request service or an estimate from our experienced, friendly team. You can expect us to do the job right!
Why Choose Us?
Free Estimates on Installations
Reasonable Rates
No Hidden Charges
24-Hour Emergency Services
Licensed and Insured