Residential Electrical Remodeling in San Jose, CA
If you're thinking about a home renovation or making some small changes to your San Jose house, don't forget to consider how you might need to adapt your electrical wiring to your new layout. You can't do this alone of course, so you should talk to your residential electrician in San Jose to find out how you should go about the process. Remember that Delta Electric is staffed with professional electrical contractors that are happy to help you with your residential electrical remodel.
Our skilled technicians are able to assist in all types of remodels, including the following: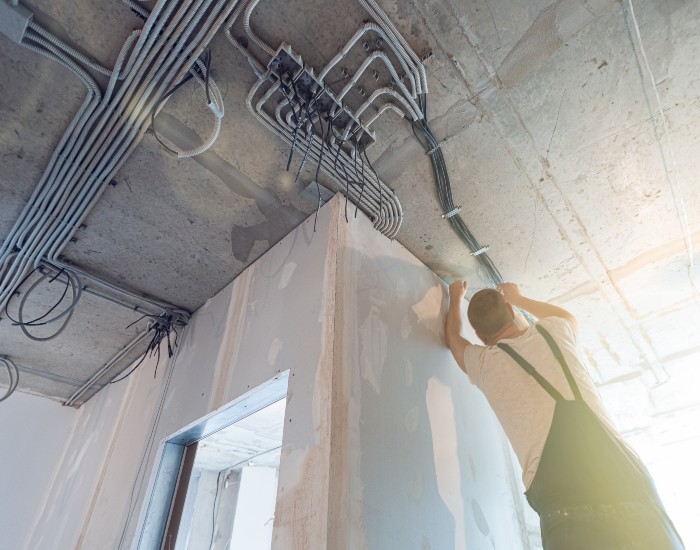 Bathrooms
Kitchens
Offices
Dens
Basements
Additions
Elements of Residential Electrical Remodeling
Home Rewiring – You shouldn't be dealing with electrical problems on a regular basis, but you might have exactly this problem if you live in an older house. Home rewiring is a residential electrical remodeling process that aims to improve the safety and efficiency of your electrical work. This is especially important to consider if you are thinking about conducting a home renovation.
Adding Circuits – Your residential electrician can also add new circuits to your space, including dedicated circuits. These heavy-duty circuits are designed to provide powerful appliances like dishwashers and washing machines with the electricity they need in order to function. Delta Electric can add new dedicated circuits so you don't have to worry about the threat of blown fuses or electrical fires.
Replacing Electrical Panel – The electrical panel is the mechanism you use to control your electricity, but older models might not be so effective anymore. Additionally, certain older homes might still have electrical panels that are no longer considered safe for the home. Your residential electrician can upgrade your panel to make your home electrical system safer and more effective.
Moving-Out Updates – If you are going to be moving out of your house in the near future, you can increase the value of your property by making certain changes. You can get any necessary residential electrical remodeling out of the way so the new buyer doesn't have to worry about it, and this convenience can make it easier to sell your house. You can also have your residential electrician prepare the home for automation technology in case future occupants want to integrate their appliances.
Working with a Licensed, Insured, and Bonded Electrician
The last thing you want is to finish your remodel just to find out that your residential electrical work has not been done properly. Since you'll want to cover all of your bases, make sure you work with the right type of residential electrician. The residential electricians at Delta Electric area licensed, insured, and bonded, so you won't have to worry about what could go wrong during your electrical remodel. Our San Jose electricians are dedicated to delivering first rate results and customer satisfaction. If you have a residential remodeling project, contact Delta Electric at 408-224-0176 and learn more about our online specials.
Why Choose Us?
Free Estimates on Installations
Reasonable Rates
No Hidden Charges
24-Hour Emergency Services
Licensed and Insured