Hire an Electrician in San Jose, CA
 Delta Electric Covers a Wide Service Area
Are you looking for an electrician in San Jose, CA? Delta Electric provides comprehensive residential and commercial electrical services to a large service area. Whether you need to re-wire your home, add lighting, or upgrade an electrical panel, our team can complete the job to your satisfaction. We even have experience repairing and installing electrical components for mobile homes. Our knowledge and expertise are unmatched by any other team in the area. You can count on us to complete the project safely and following all local codes. Please reach out to us today to schedule service at your home or business.
 We Provide Safe Electrical Repairs
For more than three decades, our team has delivered high-quality electrical services throughout San Jose, CA, and the surrounding areas. Whether you own a home, business, or mobile home, we have the knowledge to provide repairs and installations. We work hard to keep our team updated on all the latest developments in the industry to offer you advanced solutions for all your electrical needs. Our team of electricians can provide services for:
Residential: Your home needs a reliable electric service, and our team can provide it. We offer comprehensive service, from installations to repairs and replacements.
Commercial: No matter the size of your business space, our team can complete electrical projects, including re-wiring and remodels.
Mobile Home: Mobile home wiring is different than wiring in standard structures. Our team has extensive experience with the electrical components of mobile homes, ensuring we get the work done correctly.
 Areas We Service
Delta Electric provides electrical services to a wide radius surrounding San Jose, CA. If you live within this area, we are happy to travel to your property to complete electrical repairs or installations.  Please refer to the map on this page to get a better idea of our service area. The major cities included in our service area are: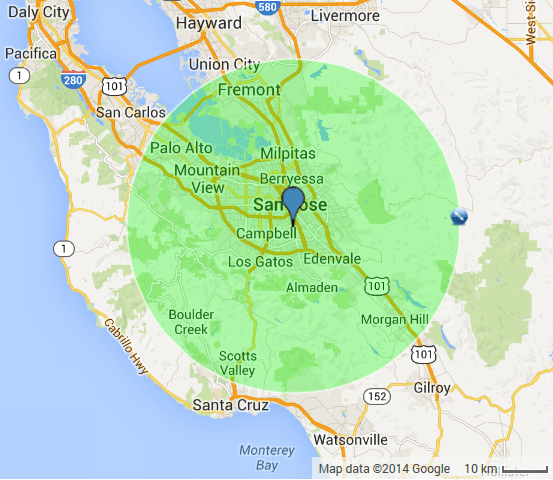 San Jose
Almaden
Evergreen
Willow Glen
Berryessa
Blossom Valley
Cambrian
Rose Garden
Campbell
Cupertino
Los Altos
Los Gatos
Saratoga
Monte Sereno
Santa Clara
Mountain View
Sunnyvale
Milpitas
Morgan Hall
 Cost-Effective Whole House Wiring & Re-Wiring Service
Wiring your entire house can be quite the job. That's why you want to hire an experienced team to complete this project. Our team can provide cost-effective wiring and re-wiring services. Because old wiring is often unable to support the power needs of modern homes, it's necessary to re-wire the entire structure with an upgraded system. This will ensure your system can safely provide electricity to all your appliances and electronic devices. We can also install new wiring for hot tubs, generators, and other additions to your home.
 Lighting Solutions
The right lighting can completely transform any space, making it brighter and more inviting. If you wa
Contact Us for Servicent to install new lighting at your home or business, our team can help you find the right solution. We can provide custom lighting design and install recessed lighting, landscape lighting, ceiling fans, security lights, and more. No matter what type of lighting your home or business needs, we can provide the solution. Upgraded lighting will not only help your space look better but can also help improve your energy efficiency. New LED bulbs use less power and last much longer than incandescent bulbs. Let our team help you upgrade your lighting.
Our team is always ready to provide electrical services when you need them. With a large service area surrounding San Jose, CA, we have the capacity to help thousands of home and business owners with all their electrical problems. Please reach out to us today to schedule service at your home or business.
Why Choose Us?
Free Estimates on Installations
Reasonable Rates
No Hidden Charges
24-Hour Emergency Services
Licensed and Insured