Electrical Rewiring for Your Home or Business in San Jose, CA
Is your building in need of electrical rewiring? If you've been experiencing some of these key indicators, it could be time to call a professional commercial electrician or residential electrician for service.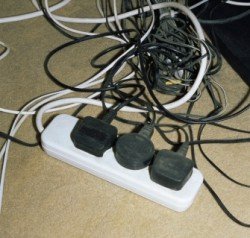 Inadequate number of electrical outlets
Aluminum or cloth-insulated wiring
Unsafe electrical panel
Inadequate power to switches or outlets
Ungrounded wiring
Electrical wiring done before 1940
If any of this sounds like the electrical wiring in your home or business, it's time to give Delta Electric a call. Our skilled electricians have years of experience rewiring commercial and residential buildings, so you know you can trust us to rewire your space safely and effectively. We can rewire the electricity in your home or business so you can rest assured you won't run into preventable hazards down the road. Electrical wiring is an essential, though often overlooked, part of every building, and it is vital to make sure it is as safe and up to date as possible. Call us today to ensure that your home or office is well-protected against potential fire hazards or other electrical concerns.
Fast, safe, and reliable: The Delta Electric difference
When you need electrical rewiring services done in your San Jose-area residential or commercial building, you can count on Delta Electric to provide you with fast, effective electrical repair to fit your needs. Our expert electricians will give you a professional opinion on whether electrical rewiring is necessary for your home or business, and will provide you with a fair, honest estimate for your project. We will then get to work on safely rewiring your home or business in as little time as possible. We stand behind our quality workmanship and commitment to service with every rewiring project we take on, and pride ourselves on making sure you are 100 percent satisfied when the job is complete. For fast response times, safe electrical work, and reliable results, Delta Electric is here to get the job done.
Call to schedule your electrical rewiring consultation
If you are uncertain whether your residential or commercial building requires electrical rewiring, the team at Delta Electric is here to help. Our electricians are standing by to give you the opinions and answers you need to determine whether rewiring your home or business is necessary. When you schedule a consultation with one of our experienced electricians, we will assess your property, prepare a detailed estimate of the work that needs to be done, and give you an estimated completion date, all in a day's work. For the most comprehensive and reliable electrical rewiring services San Jose has to offer, call Delta Electric's professional electrical contractors at (408) 224-0176 today.
The best way to determine if it is time for your home or business to be re-wired is to get a professional opinion. You can schedule an appointment with our San Jose electricians by contacting our office at 408-224-0176. We also offer online specials so you can save money on your next project!
Why Choose Us?
Free Estimates on Installations
Reasonable Rates
No Hidden Charges
24-Hour Emergency Services
Licensed and Insured