Home remodeling can be used to dramatically improve the appearance of many spaces throughout your home. If you are seeking home remodeling project that will boost your home's style and appeal, you may want to talk to your electrician about hanging lights in your kitchen space . A new lighting design from an experienced residential electrician serving San Jose can bring new warmth, depth, and style to your kitchen. To achieve the best results from your kitchen remodel, you will want to research the latest kitchen remodeling trends. Here is a review of some of the most popular kitchen lighting trends for 2016.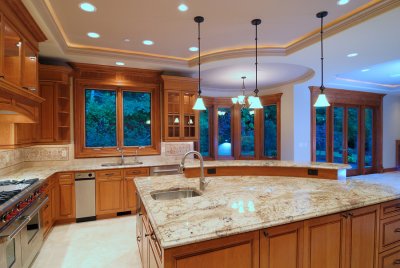 Chandelier Pendants
As you are picking out new light fixtures for your kitchen, you will want to select pieces that offer both style and illumination. If you are seeking statement lighting that is perfectly on trend, you may want to consider chandelier pendants. These elegant light fixtures are designed to hang from the ceiling and bathe the entire kitchen space in soft, beautiful light.
Modern Centerpieces
If your kitchen renovation is more modern than traditional, you may want to go with a contemporary centerpiece that will become the focal point of your design. In 2016, many interior designers used show stopping pendant lights and chandeliers that were constructed from sleek and modern materials. An oversized pendant light that is made out of sheet metal or wood will make the perfect complement to your modern kitchen renovation.
Zone Lighting
When you research this year's kitchen lighting trends, you may also come across the term zone lighting. Zone lighting is used to describe lighting that illuminates specific spaces throughout your kitchen. Your meal prep area, for example, is a zone that will require both task lighting and ambient lighting. Recessed lights are popular choices for illuminating different zones throughout the kitchen. An experienced electrical contractor can answer any questions that you may have about the different lighting options that are available for your kitchen this year.