Since most of a typical home's electrical system is out of sight, most homeowners do not understand how complex or sophisticated it truly is. For example, one big aspect of the modern home electrical system is the arc fault breaker, also known as an arc fault circuit interrupter. This piece of technology is vital for protecting your home from electrical fires.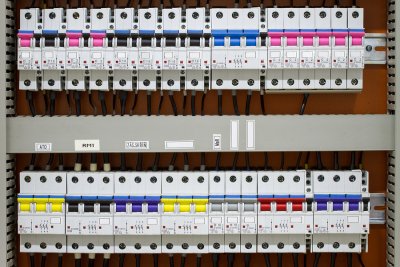 Importance
To understand the importance of arc fault breakers, it's important to understand the concept of arc faults. Simply put, an arc fault is when an arc, or electrical discharge, flows through an unplanned path. As you can imagine, this could lead to some pretty dangerous circumstances—including an electrical fire. An arc fault breaker is designed to detect arc faults and protect the circuit, thereby reducing the risk of an electrical fire, of which there are more than 40,000 a year in the U.S.
Basic Function
The average arc fault breaker is very sophisticated, and uses advanced technology to detect various types of arcing. Normal arcing occurs all the time when electrical appliances are turned on—these require no special action from the arc fault breaker. When an arc fault occurs, however, the arc fault breaker instantly recognizes the fault and interrupts the circuit, thereby reducing the danger. By contrast, conventional circuit breakers are only equipped to respond to overloads and short circuits. Arc fault breakers are now required by law for circuits feeding into electrical outlets in most rooms.
Nuisance Tripping
Though arc fault breakers are vital for safety, there are times when they overreact. In other words, an arc fault breaker may interrupt a circuit even when an appliance is being used safely and properly. This is called "nuisance tripping." This occurs most commonly with older electrical tools and appliances that have motors with brushes. Vacuums and power drills are two such appliances. If your breaker frequently engages in nuisance tripping, have an electrician take a look and address the problem. You should know that arc fault breakers are being improved on all the time.