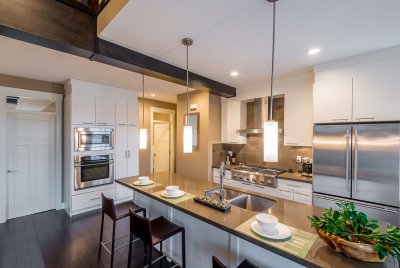 Your kitchen is the heart and soul of your home. Whether you are constructing a brand new kitchen, or renovating your existing space, it is important to include lighting in your new kitchen design . A residential electrician in San Jose will be able to provide you with all of the services you need to get the most out of your kitchen lighting installation. From hanging lights to recessed lights and more, you will be able to create a custom lighting concept with the help of your electrician. Read on for some top tips to keep in mind during your lighting installation.
Mix Lighting Types
As you are planning a kitchen lighting installation , you may want to consider mixing different types of lighting styles. For example, task lighting will provide you with plenty of illumination when you prepare meals. Other lighting styles that can be incorporated with your task lighting include ambient lighting, accent lighting, and decorative lighting. By blending different lighting styles, you can get the most use out of your kitchen lights.
Create Focal Areas
Your kitchen lighting design can be used to accentuate different architectural features or spaces throughout your kitchen. For example, if you have a central kitchen island, you can draw attention to this feature using pedant lighting or a chandelier. Other focal areas can be created by placing recessed lighting in exposed shelves or under cabinetry. With help from your electrician, you will be able to determine the correct placement for lights around your kitchen space.
Consider Decorative Additions
While lighting is a functional part of every kitchen, your kitchen lighting can also be used to provide a decorative accent to your room design. If you are planning a kitchen with a classic and elegant style, you can add decorative whimsy to your space with a fun chandelier installation. Modern kitchens can also benefit from decorative elements, such as hanging lamps and track lighting.