People generally rely on their electrical supply for a multitude of purposes in this day and age. The misuse of your circuit breaker in San Jose can leave you ordering take out food and missing your favorite television shows. Since electricity is so important to our daily lives, it is important to hire the right electrician to make sure you are taken care of. Here is a guide to hiring an electrician .
Research Thoroughly
When it comes to hiring a professional for any kind of job that may affect the overall comfort and convenience of your home, it is critical to find a trustworthy professional who will complete the job to your satisfaction. The best way to ensure that you are choosing the right electrician is to perform thorough research into your possibilities. The Internet is full of resources that you can use to compare reviews between different electricians; this allows you to find out what the people are like personally, how prepared and efficient they are, and whether or not they deal with dedicated circuits. There are many websites that you can access that offer unbiased reviews and opinions of customers who have used different services. Ask your friends and family if they have an electrician that they enjoy and find out if he or she would be a good fit for you.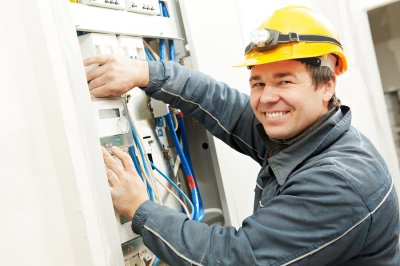 Ask the Right Questions
It is always a good idea to meet with an electrician before deciding to hire. This affords you the opportunity to see each other face to face and allows you to personally ask any questions you may have. Find out exactly what services the electrician offers, such as electric panel upgrades and circuit breaker services. Find out if the electrician is available around the clock or only at certain times; emergency services may prove useful if you find yourself with a power outage in the middle of the night .
Know What You Are Agreeing To
Always be completely sure of what you are agreeing to before signing anything. Read and reread any contracts that you may have drawn up and be sure that there are no surprises waiting for either side.